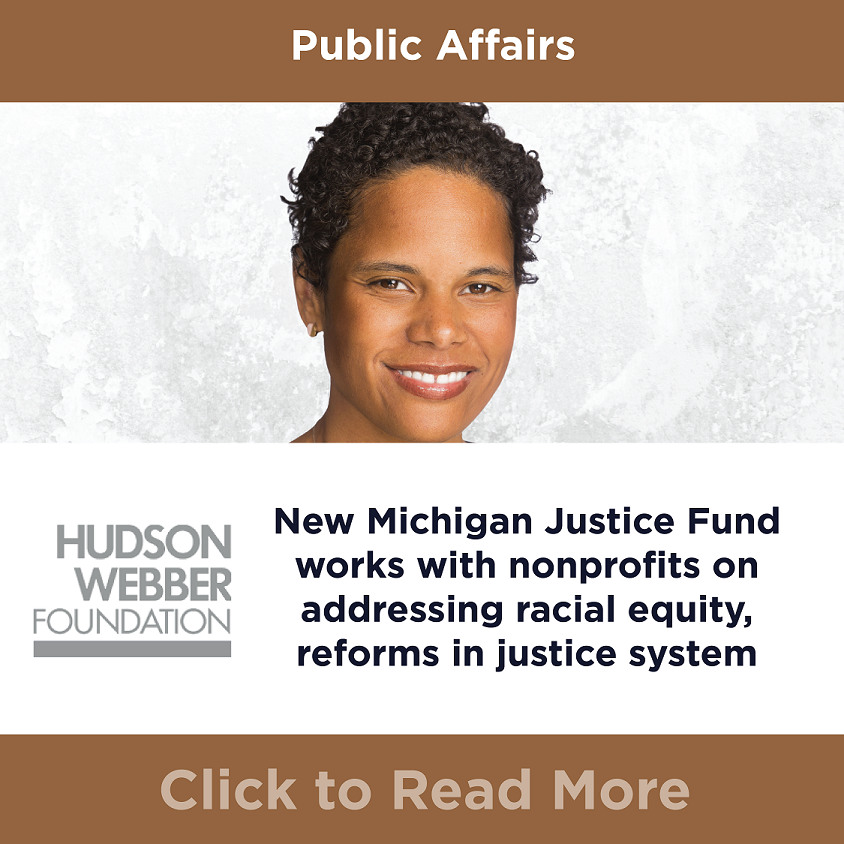 "Crusaders against inequities in the Michigan criminal justice system have a new backer.
The Michigan Justice Fund, established earlier this year through the Hudson-Webber Foundation and the Community Foundation for Southeast Michigan, has doled out $520,000 in grants in the quest to stem the flow of people into the system, according to a release from the Community Foundation.
The fund issued grants of $20,000 to 26 organizations across the state that advocate for policy improvements or serve people impacted by the justice system, according to the release. It also has invited the groups to weigh in on a long-term vision and grant-making plan to further the fund's cause.
The fund supports those returning from incarceration and investment into alternatives to incarceration, according to the release.
It's focused on addressing racial injustice, according to statements from Melanca Clark, Hudson-Webber Foundation president and CEO, and Mariam Noland, Community Foundation president.
"As demands to address racial injustice have increased in communities across the country, the need for large-scale justice reform has never been more pressing," Clark said in the release. "These grants are intended to support the leadership of people of color-led organizations on the front lines of justice reform, while also helping strengthen capacity of organizations seeking to advance effective justice policy and practice throughout Michigan."
The grantees include the American Civil Liberties Union of Michigan, the State Appellate Defender Office, the Michigan League for Public Policy, the Mackinac Center for Public Policy, Humanity for Prisoners, Black Family Development, Citizens for Prison Reform, the Michigan Collaborative to End Mass Incarceration and the Detroit Justice Center.
The fund also provided support to Wayne State University for COVID-19 testing in the Wayne County Jail system and is facilitating a pilot program for people not eligible for current reentry services after incarceration.
Aside from the Community Foundation and Hudson-Webber, money for the fund came from the Ethel & James Flinn Foundation, the Ford Foundation, the Public Welfare Foundation and the W.K. Kellogg Foundation.
The Justice and Mobility Fund, a collaboration from the Blue Meridian Partners, the Ford Foundation and the Charles and Lynn Schustermann Family Foundation, also provided support for the planning and COVID-19 relief.

See more on the Detroit Free Press

More News