DETROIT – August 29, 2023 – In honor of Black Business Month, 98Forward, Michigan's largest Black-owned public relations firm, is pleased to announce the promotion of Antonice Strickland to vice president of public relations and business development, effective August 1, 2023. In this position she will play a key leadership role within the agency, driving team and business growth, client experience and company culture. Strickland joined the agency in April 2022.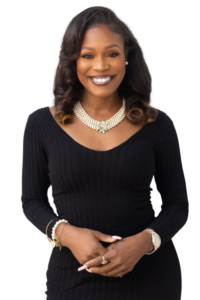 Previously, Strickland served as 98Forward's senior director of business development, where her efforts helped increase revenue growth and positioned the agency's reputation as "Detroit-based with national reach." She leveraged her skills and connections to increase clientele and brand awareness for 98Forward following the firm's 2022 rebrand. Throughout her career, Strickland has developed and managed national campaigns, elevated personal brands, organized internal processes for small and mid-level organizations and has landed client coverage in prominent media outlets, including FOX, ABC, CNN, MSNBC, Huff Post, Forbes, Crain's Detroit Business, Black Enterprise and more.
"Antonice's experience has added exponentially to the agency and its development," said Marilyn Horn, Owner, President and Chief Financial Officer of 98Forward. "Her experience and leadership coupled with the team at the agency will certainly propel us forward."
Strickland is an award-winning, strategic and trusted public relations practitioner with more than 12 years of experience in the nonprofit, government, corporate, lifestyle and entertainment industries. She was named as one of Huff Post's "Top African American PR Millennials to Watch in 2017," was awarded the Emerging Leader Award by the Washington Women in PR (Washington D.C.) and featured in PRWeek's Black History Month docuseries "What it's Like to be a Black PR Pro."
Although a Michigan native, she began her career in Washington D.C., working for nonprofit agencies including Becky's Fund, the National Black Public Relations Society, the U.S. Consumer Product Safety Commission, and the Black Women's Health Imperative (BWHI), where she managed internal and external communications, public relations and marketing efforts, and led BWHI's innovative reproductive justice campaign #DontTouchMyCare. She also spent time working in the music, lifestyle and entertainment industry with recording studios, musicians, music festivals and conferences in Maryland, Washington D.C., Denver, and Los Angeles. A strong believer in building organic and authentic relationships with community members and media partners in every city she works in, Strickland has created and maintained connections with clients and partners across the country.
"I am absolutely thrilled that Antonice will spearhead our business development and client services efforts," said Georgella Muirhead, APR, 98Forward's co-founder and CEO. "At a time of transformational growth and change for our agency, Antonice brings significant leadership experience and expertise in expanding our new client success stories, and she will further bolster 98Forward's impact across the communications industry, and in Detroit—our home."
Prior to joining 98Forward, Strickland served as senior director of marketing and public relations for the Boys & Girls Clubs of Southeastern Michigan, where she continued to develop, manage and organize strategic communications for the organization's activities and expansion amid the COVID-19 pandemic. Strickland provided leadership and strategy for successful BGCSM projects ranging from the partnership with Ponyride, an entrepreneur and small business incubator, to the announcement of the world's first Industry Club in partnership with Bedrock Detroit and Detroit is the New Black. Her efforts helped BGCSM become top-of-mind locally and garner national coverage around its work and impact to ensure youth are career, start-up and homeowner-ready when they leave the clubs. Strickland is also a former senior account executive for Truscott Rossman, a Michigan-based public relations and strategic communications firm. There she advised local and national clients such as Deloitte, Chemical Bank/TCF Bank, Detroit Medical Center and others on effectively communicating their brand through out-of-the-ordinary storytelling, expanding reach to new outlets often missed and incorporating new ideas to further their broader mission.
"I am more than elated to take on this role with 98Forward as we continue to grow, expand and impact the industry while providing essential, strategic and impactful services for our current and future clients," said Strickland. "It is truly a dream come true to work with a legacy agency not only founded, owned, and led by Black women, but one that is led with integrity, grit, expertise and creativity. I knew if I re-entered the agency world, it was imperative that it be consistent with my values and ethical standards, and that it allows the opportunity to give back, lift as I climb, and show representation in our industry. With only 8.3% of practitioners being Black/African American, I'm just honored, honestly, and I don't take this opportunity lightly."
Strickland holds a master's degree in public relations and corporate communications from Georgetown University and a Bachelor of Arts in journalism from Michigan State University. Strickland has served as president of the National Black Public Relations Society, Washington D.C., the Board of Directors for the Public Relations Society National Capital Chapter in Washington D.C., and currently serves as secretary on the executive board of the Public Relations Society of America, Detroit chapter. She is a proud member of Alpha Kappa Alpha Sorority, Inc., and is an associate member of The Recording Academy. Community engagement and giving back are passions both professionally and personally for Strickland as she is an active volunteer in the community and serves as vice president of youth-serving nonprofit Determined Exceptional Fearless Youth (DEFY), and has been a mentor and tutor for Upward Bound—a program she is a product of. She has also served as a guest lecturer and mentor at American University, Bowie State University, Central Michigan University, Eastern Michigan University, Howard University, Michigan State University, and Wayne State University's public relations and communication programs.
98Forward, founded in 1998 by Georgella Muirhead and the late Bob Berg as Berg Muirhead and Associates, has grown to be one of the region's leading public relations agencies. Earlier this year, the agency announced its milestone anniversary of 25 years of providing award-winning services, unique expertise, and communication solutions, provided through a lens of diversity, equity, and inclusion for its clients. 98Forward has worked with more than 150 companies, nonprofits, individuals, and agencies across the region to help them authentically connect with audiences and best tell their stories.
98Forward is currently hiring! Interested candidates can apply here.
About 98Forward
98Forward, Michigan's largest Black-owned, woman-led public relations agency headquartered in Detroit, executes strategic communication campaigns that resonate with our clients' industries, stakeholders and their target audiences. We are respected for our skill and integrity and are dedicated to our clients and our community. As an award-winning agency with a legacy of excellence, we have worked with more than 150 clients in a wide range of industries, including government, transit, health care, education, nonprofit, cultural, technology, law, retail, entertainment, manufacturing, hospitality, real estate development and insurance.