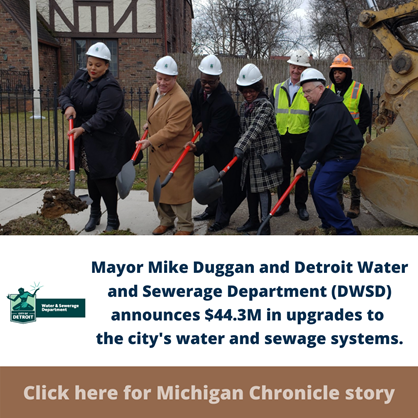 A $44.3M investment will go into building a new water main, sewer lines, and lead service line replacement in both communities. A first of its kind, this investment is part of a $500 million Capital Improvement Program that's using funds from DWSD's 40-year lease with the Great Lakes Water Authority (GLWA).
Executive Order 2016-1 states that 51% of the work hours on DWSD projects must be worked by Detroit residents and mandated by assigned contractors. The DWSD Capital Improvement Program Management Organization (CIPMO) created a contractor-based program to increase the hiring of Detroit-based contractors for future DSWD work.
"Today's groundbreaking is one more way we are investing in our neighborhoods and our residents," said Mayor Duggan. "Not only are we spending more money on infrastructure improvements, our Civil Rights, Inclusion & Opportunity department will be monitoring these projects to ensure the contractors are hiring at least 51% Detroit residents and contributing to our workforce training fund if they are unable to meet that requirement."
"We are leveraging the GLWA lease payment and benefiting from improved operations at DWSD to launch a comprehensive approach to water and sewer upgrades," said Palencia Mobley, P.E., DWSD deputy director and chief engineer whose team is managing the capital improvement program along with contractor AECOM. "We decided to take a neighborhood-by-neighborhood approach, starting with assessing the water and sewer systems, then designing an upgrade strategy based upon that data, the probability of failure and the consequence of failure in the pipes."
Improvements in selected neighborhoods include:
Replacement of water mains and fire hydrants.
Replacement and lining of city sewer pipes.
Replacement of lead service lines with copper pipes where they exist on blocks where water mains are being replaced. While a portion of the service lines are on private property, DWSD is replacing them at its own cost, as long as it has the consent of the property owner or occupant to perform the work on their property.
Installation of Green Stormwater Infrastructure projects to reduce street and basement flooding.
In the Cornerstone Village and North Rosedale Park neighborhoods, roughly 54,800 linear feet (approx. 10.4 miles) of water main will be replaced or lined. Also, more than 71,000 linear feet (approx. 13.5 miles) of sewer collection pipe will be repaired, lined or replaced. Lead service lines will also receive treatment. 
Other neighborhoods that received assessments for DWSD construction include Brewster Douglass, Brightmoor, Jefferson Chalmers, Miller Grove, Minock Park, New Center Commons, Piety Hill, Rosedale Park (South), Riverdale and Virginia Park. These neighborhoods are under review for further structural work. 
The Detroit Water and Sewerage Department (DWSD) serves more than 230,000 accounts that include a residential population of nearly 700,000. DWSD's water network consists of more than 2,700 miles of water main and nearly 3,000 miles of sewer collection piping within the city of Detroit. To learn more about DWSD or to request water services, make payments, or report water problems, call DWSD Customer Care at 313-267-8000 or CLICK HERE.

See more on the Michigan Chronicle

More News