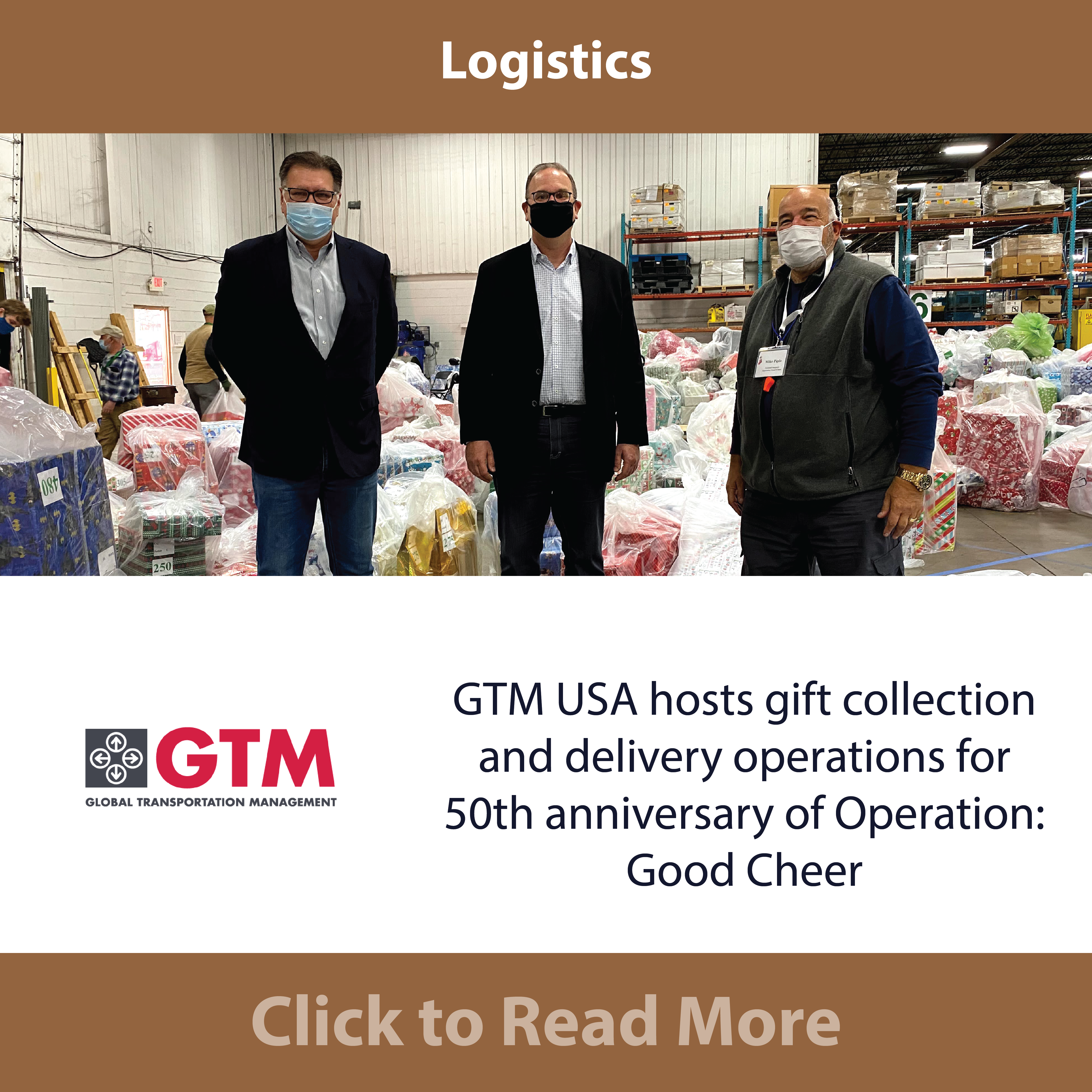 The annual gift collection and delivery effort is a collaborative program created and led by Child and Family Services of Michigan, Inc., and is a volunteer-based gift-giving program for infants, children, teenagers, and adults with disabilities who reside in foster care. Operation: Good Cheer celebrated its 50th year of operation during a holiday season where supply chains are adapting to meet the tremendous economic and operational challenges created by the COVID-19 pandemic.
Deshler Group company Global Transportation Management (GTM USA), a full-service logistics and freight-forwarding provider that manages operations across six continents, has been a long-time supporter and participant in Operation: Good Cheer, joining a coalition of fellow logistics providers, major industrial and automotive manufacturers, and community organizations.
In addition to GTM, Deshler Group sister companies Feblo International, Amanda Manufacturing and Global Strategic Supply Solutions (GS3 Global) donated warehouse space and volunteer assistance throughout the event, alongside a corps of volunteers from Michigan companies and community organizations that have supported Operation: Good Cheer over its five decades.
"Participating in Operation: Good Cheer is truly one of the highlights of our holiday season, and we're proud to be able to provide a base of operations for this monumental effort to bring joy and comfort into the lives of kids across Michigan," said Mark Brodie, co-owner and managing member of GTM.  "As our industry has adapted to meet the unique challenges that this pandemic has created, we're pleased to be able to offer the use of this facility and the benefits of our well-established health and safety infrastructure, which has kept the family of Deshler Group companies on track throughout these many months of changing conditions."
Gift collection took place at Deshler Group's main facility in Livonia on Friday, Dec. 4, and distribution will continue through Saturday, Dec. 5, to gather and deliver over 7,000 gifts throughout the state.  Observing strict health and safety protocols, volunteers from a variety of Michigan companies and charitable organizations worked together to facilitate the process of receiving, loading and distributing gifts.
In recent years, the annual gift collection and distribution process was centered around large airport hangars, where hundreds of volunteers took part in the loading and sorting process.  However, Operation: Good Cheer organizers developed a plan with GTM that transplanted and scaleed the 2020 operation to Deshler Group's more compact, tightly controlled environment in order to best provide protection and organization for volunteers, drivers and, ultimately, the young recipients of thousands of holiday gifts.
"Whether we're talking about our customers, our co-workers or our community, we succeed when we lean into the strength of our partnerships, especially those that enable us to combine our proven capabilities with an impactful project," said Robert Gruschow, president of Deshler Group and co-owner of GTM.  "A key element of our business model is bringing innovation and integration together to solve for a new set of challenges, so being able to work with the dedicated volunteers and partners who have made Operation: Good Cheer the success that it is, adapting an already incredible program to overcome the restrictions of the moment, is an opportunity that we're grateful to be a part of."
Since 1971, Child and Family Services of Michigan, Inc. and its partners have delivered gifts to over 100,000 children and collected and distributed nearly 8000 donated presents in 2020. 

Watch the full report on WXYZ Detroit

More News